---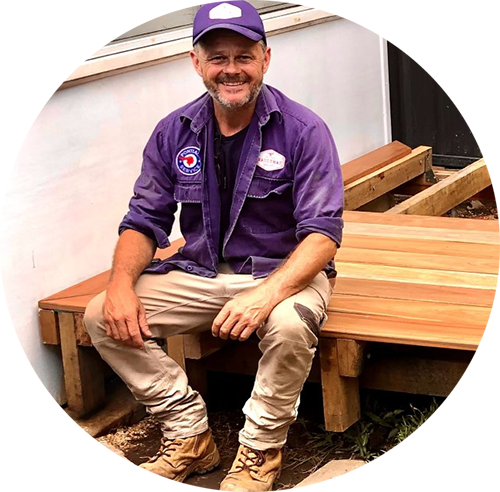 ---
---
About
I'm your friendly and reliable Trusty HandyMan!
Who
Who am I?
---
My name is Scottie and I'm your friendly and reliable Trusty Handyman! Although I've spent many years as a performing artist, teacher, director and fight choreographer, I have a lifetime's experience in gardening, odd jobs, painting, building, creating and repairs. When the Covid-19 pandemic hit in 2020, I had to make a huge pivot in order to provide for my family. I started doing odd jobs and gardening and before I knew it, word of mouth had propelled me into a full time handyman business - and I'm loving it!
What
What can I do?
---
I can do all sorts of jobs for you around your home or business, big or small. Please see my list of Services for an idea of what I can do - and if it's not on the list, ask me anyway - I love a challenge! I've designed and constructed playground equipment for a kindergarten, built an access ramp for a client using a wheelchair, designed and built a deck for an inner west terrace and done all sorts of assembling, gardening and odd jobs for clients who keep asking me back!
Where
Where do I service?
---
As a father of four running a family business, I offer a personalised service and am punctual, polite, non-smoking and always happy to go the extra mile for you.

I service all areas of metropolitan Sydney . So wherever you are located, contact me for a free quote - I look forward to meeting and working with you!
---
---
Filter by
Backyard

Beam

Build

Carpentry

Clean

Concrete

Deck

Demolish

Design

Door

Etch

Facia

Fence

Floating

Front Yard

Gutter

Interior

Rafters

Repaint

Repair

Roof

Sanding
---
---
Testimonials
What our customers think
Blessing to house owners
Handyman Scottie Witt is a blessing to house owners with small jobs tradies are not interested in. Scottie has regularly helped in my garden and recently repaired 2 damaged gates which would have been replaced at considerable cost. He brings his own tools and equipment. He is reliable and totally trustworthy. I recommend Scottie without hesitation.
Margaret Barrie
No Ordinary Handyman
The Trusty Handyman is no ordinary handyman. With a background in creative and performing arts he has a unique eye for detail. Combine this with the focus and skill of craftsman and he truly is in a league of his own. Scott managed to take my initial ideas, percolate on them awhile, then execute and deliver beyond my expectations. I thoroughly recommend The Trusty Handyman for your next project be it big or small.
Mark Jensen
Approachable, friendly – A+ standard
Scottie is an approachable, friendly and knowledgeable handyman with a good knowledge of a variety of trades. He is very keen to meet your needs but is not afraid to make creative suggestions that may provide a better outcome. Attention to detail is very important to us and Scottie shares this ethos. He keeps you informed of his movements, is transparent with his costings, cleans up and his work is of an A+ standard. Highly recommended. Peter and Kate, Haberfield.
Peter and Kate, Haberfield.
Honest, Hardworking and Highly Skilled
Scottie Witt is one of those people that once he has worked for you, you will always invite him back. His work is impeccable, there is nothing he cannot do it seems. He is extremely honest, hardworking, highly skilled and a joy to have around. He created magic for me in my terrace courtyard, and is happy to do either a small or large job, and always with grace. 5 stars.
Dr Margi Brown Ash
---